A Tribute to all the Innocent People whom lost their Lives on 11 Sept 2001 in the World Trade Center, The Pentagon, and Shanksville Pa. Even though you were taken away from your Families, Friends, Co-Workers and all the lives you have touched.

@ 0846hrs The United States & the World was in shock & disbelief of the barbaric events that had taken place on U.S. soil. People were going about their daily routine, when they were suddenly taken away from their families, friends & co-workers. These wonderful people did nothing wrong at all, just going about their daily lives. Whether it was going to work, speaking with co-workers, shopping or just even sightseeing for a day.
You will always stay within our Hearts, Prayers, & Thoughts for ever.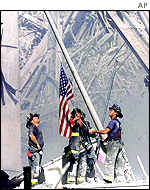 The Trail of Tears Midi is by Elan Micheals
To Enter my Website, Please click here. Thank you
Dave Lightner FF/EMT.
Copyright © 1999 6 DOGGS Design. All rights reserved.
Revised: 20 MAR 2002 1738 Hrs EST -5:00GMT .