Welcome to the Fire Poems Section of my Website. Within the Fire Service, We as Firefighters encounter all sorts of "Different" Things will out on a call. There is no "Routine" type call ever. We may be dispatched for a "Trash Fire" but upon our arrival, find this "Trash Fire" is an abandoned house or building of some sort. We never know what the next call will be. Our lives are on the line each & every time a call is dispatched.
To all our Family members, We as Firefighters thank you for your continued support of our beliefs in helping others. Whether a person is a "Career" Firefighter or a Volunteer Firefighter, We do our job the same way, to protect a person's property & if need be, to save a person.
Of all the Fire Related Poems I have seen so far in my 21 yrs within the Fire Service, "God's Creation of a Firefighter" to me really explains what we as Firefighters go thru. Each time I read "God's Creation of a Firefighter" it brings tears to my eyes.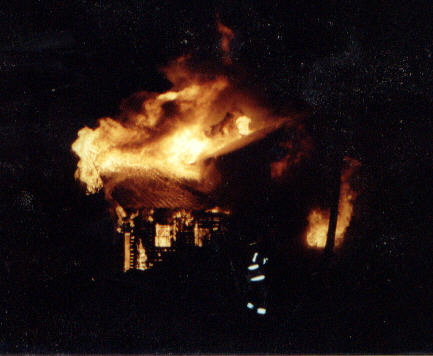 Dave Lightner FF/EMT.
Copyright © 1999 6 DOGGS Design. All rights reserved.
Revised: Aug. 26th 2001 2155 hrs EST -5:00GMT .