Main Site
Welcome
How/Why I got involved
My EMS Life
My Fire Life
Family/Friends Photos
Family Photos2
Police Poems
A Policeman's Prayer
Fallen Officers
The Final Inspection
Blood upon the shield
The Police Officer
The Monument
Ems Poems
One White Rose
Jasmin
All Alone
The EMT Prayer
EMS Rules
EMS Rules Part2
Lessons learned
Why God/Paramedics
Fire Poems
God's Creation/Firefighters
Who can Our Kids Look To?
Thank you/Fireman's Daughter
Firefighter's Creed
St. Florian's Prayer
The Brave Volunteers
Fire & Ice
Men & Women of Character
Lost Lives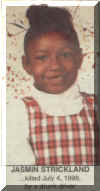 A road was renamed today,
On the Fourth of July.
After a precious little girl,
That was too young to die.

I remember the scene like it was yesterday,
Yet it was two years ago.
How I wish that I could forget that
scene,
But for some reason I cannot let go.

You see, I was an EMT,
And was sent to save her life.
But her injuries were too critical,
And her life ended that night.

It was the result of
an adult that went too far.
He went to a party
and was much too drunk to drive a car.

But he drove that night anyway,
Even though he knew the possible cost.
Why didn't someone stop him,

So that precious little child would not have been lost?

We did the best that we could,
But it was all in vain.
And when we got her to the hospital,
My tears flowed down like rain.
So this road was renamed,
For that precious little girl.

Jasmin, I will never forget you.
You are forever a part of my world.
Written by: Debbi
**WebMaster Footnote**

The poem is very true to the Heart. It was written by a close friend,
Whom did her BEST to help Jasmin.
Jasmin lost her life to a Drunk Driver
on July 4th, 1998 at 9:10pm

This Poem may not be used WITHOUT the written consent of the Webmaster.
Respectively;

Webmaster Dave Lightner
Site Design by 6 DOGGS
Dave Lightner Webmaster
Copyright © 1999 6 DOGGS Design. All rights reserved.
Revised: 21 Mar 2002 0926hrs EST -5:00GMT